Meet Deesha,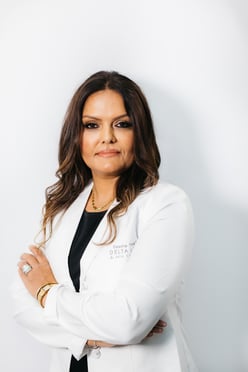 Deesha graduated nursing in 1996 working primarily in the Surgery unit until 2004 when she took time away to raise her 3 beautiful children!
After returning in 2016, Deesha's passion for aesthetic medicine led her to start her journey in cosmetic injectables, learning, and training under some of the most advanced + skilled doctors in the lower mainland.⁠
Deesha keeps on top of the constant change in the field of aesthetic medicine by attending international conferences, upgrading, and certifying her skills with new technologies with sophisticated knowledge of MD Codes — The MD Codes™ is a system that was developed by Mauricio De Maio (MD), to increase patient confidence, safety and clinician success rates with injectable treatments and by focusing on addressing unfavorable emotional attributes of the face.
Not only does Deesha love cosmetic injectables but her passion for helping women + men feel their best leaves her patients feeling refreshed and empowered. ⁠
Delta Laser is so excited to have Deesha Thind, RN as part of our team!
Contact us to book with Deesha Thind, RN today.