About Dr. Sara Lacaria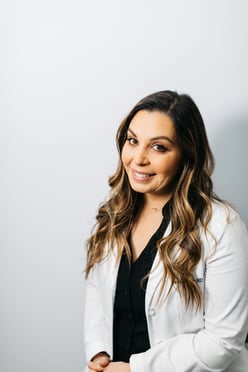 Dr. Lacaria is an accredited family physician with a special interest in medical cosmetic procedures. She has completed advanced courses in the use of neurotoxins and facial fillers. Committed to providing her patients with the latest in medical aesthetic care, she attends professional training & conferences in the area of non-invasive technologies, on an ongoing basis.
Professional and compassionate, Dr. Lacaria collaborates with her patients, priding herself in conversations that are open and candid. Her patients appreciate her commitment to developing treatment plans that are safe, practical and address their main concerns.
Dr. Lacaria is registered with the College of Physicians and Surgeons of Ontario and British Columbia, the College of Family Physicians of Canada, and is a Board Certified Family Physician in the USA. Upon completion of her studies at the University of Arizona in 2014, Dr. Lacaria returned to Canada to practice family and aesthetic medicine.
She and her family decided to relocate from Toronto to Vancouver in 2018 to be able to enjoy the beautiful landscape and all that BC has to offer.